X-40 Shade
Production information
Manufacturer
Product line

Project X

Model

X-40

Class

Long Range Fire
Orbital Weapon

Technical specifications
Length

120m

Maximum acceleration

2MGLT/s

MGLT

50MGLT

Maximum speed (atmosphere)

100kp/h

Engine unit(s)

Twin Ion Engine
Numerous Ion Thrusters (maneuvering only)

Hyperdrive rating

Emergency Class 12

Power plant
Countermeasures
Armament
Crew

12

Minimum crew

4

Usage
Role(s)

Artillery

Affiliation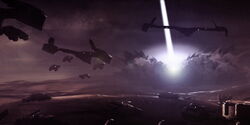 The Shade otherwise known as the X-40, was a large mobile Neutron Cannon platform. Designed Primarily to be an Orbital Bombardment and long range attack platform. As an orbital platform a single X-40 is capable of devastating a large area with its main weapon, especially if it 'rakes' the beam over an area to increase surface damage. A single 30 second sustained blast is more effective than several direct turbolaser blasts.
Power Ratings
X-40 Mark-I: Maximum Destructive Power of 22,350TW (5.3 Megatons)