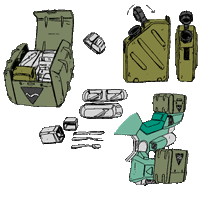 The Templar Field Kit was standard equipment on all Templar Vehicles. It featured everything an individual would need out on the field.
Contents
Mess Kit
The Kit featured a mess kit, that contained a Large plate/tray that was deep enough to function as a bowl. A second tray with separators that functioned like a normal tray, and a container with a Knife, Spoon, and Fork.
Rations
Its a Standard of the kit to contain 14 days of Rations, 14 Breakfasts, Lunches, Dinners, Energy Supplement Bars, and 14 Days worth of Powdered Drinks (Generally Energy Supplements)).
Water
The Kit contains a large Water container that if rationed can last two weeks but is normally gone in one week. To Aid in more water there is also a distiller that can be fitted on the cap of the can and filters watter as it flows into the can.
Computer/Beacon
Finally the kit contains a field computer. The Computer allows the user to keep a log, and it also broadcasts on several emergency Templar Frequencies. The Computer is very small and can be wrist mounted, though it seems somewhat bulky.
Shelter
Each Standard Kit, contains a small collapsible shelter that is large enough to house 2 people rather comfortably.