Assertor-class Star Dreadnought
Production information
Manufacturer
Product line

Star Dreadnoughts

Model

Assertor-class Star Dreadnought

Class

Star Dreadnought

Cost

≈600,000,000 credits

Technical specifications
Length

15,031.3 meters[1]

Width

7,615.6 meters[1]

Height/depth

2342.1 meters[1]

Maximum acceleration

>2,300 g

MGLT

50 MGLT

Engine unit(s)

KDY Destroyer-I ion engine (22)

Hyperdrive rating
Hyperdrive system
Power output
Power plant
Shielding
Hull

Titanium-reinforced alusteel

Sensor systems
Targeting systems
Navigation system

Equipped

Avionics

Equipped

Main computer

Mark-XX Eshan-class Main Computer Core

Countermeasures

ECM/ECCM

Armament

720-teraton Super Heavy Turbolasers (384) (192x2)
240-teraton HTL (2156) (539x4)
40-teraton HTL (2128) (266x8)
240-teraton ion cannon (240) (60x4)
Tractor Beam Projectors (12)
Gravity Well Generators (5)
Thousands of Lesser Weapons
Single Superlaser

Complement

Normal Mustafarian Variant

Echani Variant

Escape craft

Equipped

Crew

192,984

Minimum crew

60,000

Passengers

150,000 battle droids

Cargo capacity

150,000 metric tons
Supplies for 200,000 individuals

Cargo handling systems

Beltway system

Consumables

12 years

Communication systems

HoloNet Transceiver

Other systems

Normal Mustafarian Variant

Echani Variant

Starfighter/Munitions Factory

Usage
Availability

Military

Role(s)

Command ship
Carrier
Battleship (dreadnought)

Year introduced

4 ABY

Era(s)
Affiliation
The Assertor-class Star Dreadnought was the largest and most heavily armed ship ever built by the Mikaru Corporation and Mustafarian Merchants Alliance. Unlike the Bellator-class Star Battlecruiser it wasn't mass produced, due to its size and cost. At just over fifteen kilometers in length, and boasting hundreds of weapon emplacements the ship fell into the Super Star Destroyer category Star Dreadnought.
Conceptualization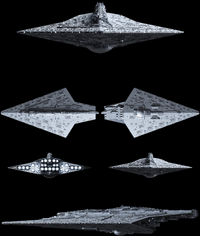 The Concept of the Assertor came about in a bout of pure irony against the Empire. During the Galactic Civil War the Empire had used the term Super-class Star Destroyer with false schematics as a cover for the budget of the Executor class. These fake schematics were in the databanks of Imperial Ships in orbit over Eshan when the Empire was removed from power, giving the Echani access to them. Following an alliance with the Mustafarians the Mikaru Shipwrights and the Mustafarian Merchant's Alliance looked over the plans and created the Assertor, named using a word that means "one who asserts the position of another".
Within the course of over a year of research, development, financing, and construction, the first Assertor, Furious One was completed. Following the successful use of the use of the Furious One the Echani began construction of the Eversor in a Secret Construction Facility in 13 ABY. Both completed ships were massive, so massive that the Echani never planed to build a second ship, while the Mustafarians made plans for a second. The end result however was a ship capable of taking on any other ship in the galaxy and decimating it, with a final weapons output of all arcs greater then a single Executor. Combined with its massive hanger bay it could carry a total of 18 wings of starfighters.[1]
Notes and References
↑

5,000,000,000,000,000,000,000,000,000 watts

↑ 500 times the power of one Imperial Star Destroyer
↑ Assuming equal efficiency, ~5e27W sustained, or 500x ISDs in overall power generation. FractalSponge
Community content is available under
CC-BY-SA
unless otherwise noted.